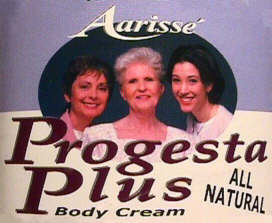 Available From Local Health And Pharmacy Stores, By Mail Order,
Or Through Our Website.
800-675-9329
Click Here To Go To Our Website
Click Here To Go To An Article
Natural Progesterone helps:
* Lower incidence of heart disease & cancer
* Reverse osteoporosis * Enhance sex drive
* Protect against Fibrocystic breast tumors
* Lessen PMS, cramping, vaginal dryness
* Relieve depression, mood swings, hot flashes, migraines, night sweats and more...
Balance Your Hormones
N a t u r a l l y
According to Dr. John Lee, a Harvard trained physician, there's an overabundance of estrogen and estrogenic substances in the foods we eat and petrochemical environment we live in. Our body needs progesterone to counter-balance the toxic effects of estrogen dominance. Progesta Plus corrects dangerous out-of-balance hormone aliments.